Castration project with Vet Gordon Adams 09/12
A heartfelt thank you to Gordon Adams and his wife Joanné, who donated their time and expertise to our Transkei project. After our time overseas it felt good to be back and continue our efforts with the community animals. Gordon castrated a good number of young colts and we gave Pegaforte dewormers which were kindly sponsored by Cipla Vet. Our aim, together with Gordon, is to repeat and grow this castration project once a year, to hopefully include more animals, like donkeys, dogs etc. If you are a vet or veterinary assistant, or just someone that would like to volunteer and help please contact us!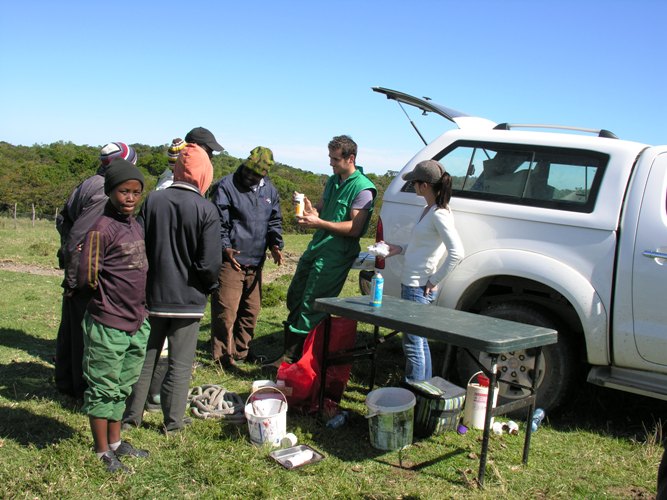 Project Documentary and photo shoot 06/12
A big thank you to Epol (www.epol.co.za) for supporting the Riding for Horses documentary and educational DVD financially and making it possible!
In Sync Productions visited us at our Equine Outreach Project in the former Transkei and filmed the work we do, the difficulties we face, the people and equine interactions ... A one day film shoot will follow in July to add last minute footage to the documentary.
A Television Documentary:
Introduction to Riding for Horses members and initiatives;

Our African Horse Sickness ride around South Africa and our future Rhino Knights ride;

The tasks and difficulties of the Equine outreach project;

The role of the horse/equine in the rural former Transkei;

Rural life of the AmaXhosa people;

Education of children in the treatment and handling of equines.
AND
We will be creating an Educational DVD which is expected to reach State Veterinary Departments, tack shops, equine establishments, all schools in the former Transkei and other rural schools of South Africa where equines and humans co-exist. The DVD will emphasize:
This is very exciting for us and we would like to say thank you to In Sync Productions for their support!
We are very excited to announce that Equine Photographer Tracy Robertson (www.tracyrobertson.co.za) joined us during the filming of the documentary and took pictures of the horses, the people, us interacting with them and treating their animals ...
With her pictures we are planning to create a calender of our Equine Outreach Project plus we are hoping to auction off the best picture taken to help raise more funds. Tracy´s photographs are beautiful and capture moments! Have a look at Tracy´s blog on her website to see the photographs she has taken!
On this note we would like to thank Rivendell Stud (www.rivendellstud.co.za) for supporting Tracy to make the trip to the Transkei.
Education and deworming 04/12
On return in April our first priority was to find out how the grey mare was but unfortunately she had died a slow and agonizing death. One less horse now in the Transkei, one battle lost ...
The community gathered in our usual places, Hobeni, Kunene and Cwebe, and we have really started to focus on owner education, the handling and skills development surrounding the horse. We met with the local Chiefs and have communicated our intention to shoot a documentary in June to get more support and create more awareness for our project.
We got the Chief´s blessing and after a successful few days of treating horses and educating owners we headed back to Howick to start planning and raising funds for the documentary.
Winter is approaching and the tick load is starting to drop down, with it the grassing value drops too but at least the animals can have a break from the continious itching!
Deworming project 02/12
In February we travelled to the former Transkei to the Haven Hotel to deworm as many rural equines as possible. We focused on horses and mules and had a good turnout. To get the community to gather their horses is very challenging but this weekend went well as there were no community functions or social gatherings elsewhere.
This time of the year with high rainfall, heat and 100% grass cover, the ticks breed and explode onto the livestock. At the moment all horses are covered in ticks. Ticks literally eat their ears off, mares have lost their teats to ticks and can`t feed their foals, stallions sheaths get eaten from the inside and form abscesses. Mares that have lost their teats are still covered annually and give birth to a foal destined to a death through starvation. But the real problem is the screw worm fly that lays its eggs into wounds created by the ticks. The larvae hatches out and unlike your normal fly and maggot that eats dead and rotting flesh, the screw worm eats living flesh. Resulting infections lead to a very slow and painful death. There is nothing the community can do about this infestation. However modern medicine in the form of Dectomax, a Pfizer product, treats Screw worm very successfully. Though registered for cattle it treats parasitic infestations internally and externally in horses. We treated a beautiful grey mare with a bad infestation of screw worm with extra medication and left medicine for the owner to give. We hope she is still alive next time we come down.
Screw worm our next hurdle...
Thanks to Des and Liesl Kruger from Paardebosch Wine farm for hosting us and the talk and to Tamasine and Michael Smith for their effort and for support of Riding for Horses initiatives.