About Isabel
Isabel Wolf-Gillespie
Wildlife Education and Community Outreach Coordinator (NOTUGRE)

Wilderness & Equine Faciliated Personal Development Practitioner

Author, Storyteller and Public Speaker

Founder of the Earth Awareness Trust

CEEPSA Qualified Equine Complementary Health Therapist

Qualified State Nurse (Germany)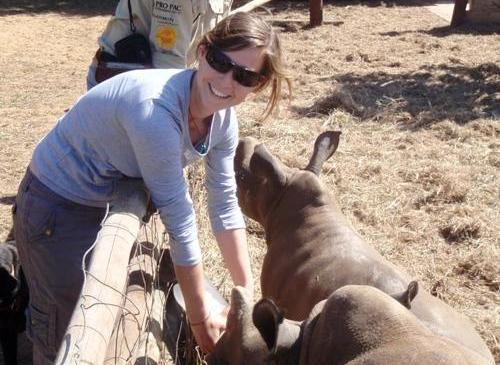 Isabel was born and raised in Germany and moved to Southern Africa almost 10 years ago. She is the Author of two book publications, 'Between Fire & Shadow' and the German Publication 'Südafrika vom Sattel aus', both available on Amazon. She has been living all over Southern Africa actively involved and leading a variety of community, nature preservation and conservation initiatives and projects, mostly voluntarily.
Together with her husband Lloyd, Isabel has founded and is running their business In the Company of Horses. Growing up in Germany, she was schooled and trained the conventional way, but for the past 10 years her experiences, knowledge and equine skills have expanded passed conventional methods. Above all, she believes in the natural body language of horses to ensure mutual trust, sound communication and understanding and allowing horses to live completely naturally. Her interest and field of work lies with equine facilitated learning activities and therapy, and she focuses her work on personal development, empowerment and growth. She is an active member of the KZN Equine Facilitated Intervention Association of South Africa, speaking as a voice for horses at an international level with the focus on the horse welfare, care and standardized skills training in this field.
She is an enthusiastic story teller, writer and public speaker, with the aim of sharing and gathering stories to inspire, empower and uplift the causes she passionately believes in. Through the founding of the Earth Awareness Trust and its varied initiatives all aimed at creating social change for the better of this planet, she has developed strong relationships and collaborations with internationally recognized organizations such as the Blue Sky Society Trust, InnerCore Energetics Botswana, The Story School and Museum Oxford, Elephants Alive Hoedspruit, One Nature Films and the Lawrence Anthony Earth Organization. A variety of future collaborations and projects are in development and in process.
In line with Isabel's focus for Earth Awareness, she is employed at Mashatu Game Reserve Botswana to run their Wildlife Education and Community Upliftment Programs.